The Dort Automobile Company In Early Advertisements
The Dort Automobile Company was founded in Flint Michigan in 1915 that made cars there until 1924. The companies founders, William Crapo Durant and Josiah Dallas Dort, actually started making wagons back in 1884. Although their automobile company was short lived, their ads where very prevalent in print during those years.
From The Washington Herald in 1915 – This one one of the first print ads ever seen for the new Dort Automobile.
The New Dort has arrived – Do not buy any car, at any price, until you have seen it, for the DORT is a revelation in motor car values. Here are some of the features which make the DORT stand out so prominently in its class: SIMPLICITY, ACCESSIBILITY and DURABILITY. Power and speed WITHOUT VIBRATION remarkable hill-climbing ability wonderful cooling quality of the motor ample room, luxurious upholstery, excellent finish, beautiful streamline body and perfect spring suspension (you can't know what small car comfort really is until you have had a ride in the DORT).
The DORT has every desirable feature of the high priced car but none of its drawbacks. " High cost of up-keep" is unknown, and as for initial investment just look at the figures on your right. See It Today! Dort Motor Company, Flint Michigan.
The New York Sun Newspaper -1916
The Keowee Courier – 1917
The Enduring Car of The Enduring Class – There are but two classes of motor cars. One class is made up of poorly built and wickedly merchandised cars. The point of saturation for this class has been reached. It cannot endure. The second class-the class that forms the backbone of the automobile industry-is made up of honestly built and properly merchandised cars. The point of saturation for this class is in the far and distant future. This class will endure. It is to this enduring class that the Dort Automobile Company belongs. For the Dort is a car that is built to endure. It is the leader among moderate priced cars-beautiful, sturdy, honestly built and honestly sold.
The Evening Missourian – 1919

It seems like it is this year when the ad become sparse in the newspapers and start appearing in smaller town as apposed to the large cities.
The Lynden Tribune – 1920
After this year, ads for the Dort automobile seem to fewer and farther between in the print ads.
Buy a reproduction Dort Motor Car Company Print Ad – this was one of the most elegant of the Dort ads I came across.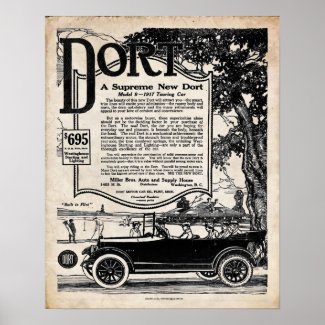 Vintage Automobile Sign – Dort Motor Car 1916 Print
by
OldVintagePosters
Look at more Dort Posters at
zazzle