Polarine Motor Oil – The Perfect Motor Oil
Polarine was a "baby" brand of the Standard Oil Company and their ads appeared a lot in the early 1900's with the new popularity of the "horseless carriage". Here are some of the more frequent ads that appeared in major newspapers.
The first mention of Polarine was seen in the Washington Times in 1910 and it reads as follows:
The recent reliability tour from Richmond and return demonstrated in no uncertain matter that at last a lubricant has been put on the market that is absolutely non-heating and non-carbonizing. The new lubricant is styled "Polarine" and is made by the standard oil company. Every car in the run was lubricated with this oil and the participants were loud in their praise of this lubricant. Frequently the cars stood for many minutes with the engine running after having traveled many miles through mud that was almost hub deep, but the new lubricant kept them running smooth and evenly. Some of the cars exhausted their water supply on account of the holding mud and steep grades, but the drivers were enabled to make the controls without being penalized for taking on water outside of noon and night controls through the use of Polarine. The fact that their were no penalization's for a lack of perfect lubrication and no ignition troubles is a striking tribute to the efficiency of Polarine.
Play a period tune below – Al Bernard – Read 'em and weep 1921

Audio clip: Adobe Flash Player (version 9 or above) is required to play this audio clip. Download the latest version here. You also need to have JavaScript enabled in your browser.
You often see Polarine signs and cans showing up nowadays, and I believe I had seen a can similar to the one in the ad below on American Pickers.
Polarine On The Farm – The ad to the left was from the Little falls Herald in 1919 –
Why Have Tractor Troubles? – Lubricating oil is inexpensive – the cost of a burned out bearing will pay for the lubricants necessary to keep the machine in order for months. The Standard Oil Company (Indiana) manufactures three lubricating oils for tractors —
Heavy Polarine Oil
Stanolind Tractor Oil
Extra Heavy Polarine Oil
One of these three is the correct oil for your tractor. The nearest Standard Oil representative will be glad to show it to you. Write for "Tractor Lubrication," which you will find a valuable reference book of 100 pages and we believe it will save you many days of tractor idleness with the resultant money loss. Its free to you for the asking. Address – Standard Oil Company, 910 S. Michigan Ave. Chicago Illinois.
The ad from 1921 below reads – It will pay you to be careful in selecting the Lubricants you use. There's a Socony Polarine Product for every motor and chassis lubricating requirement.
Motor lubricants, particularly oils, depend upon some thing more than quality, although that is, of course, the first essential. Certainly, a heavy oil, however fine it is in quality, will not afford perfect lubrication in certain types of motors, nor will a light oil in other types. Not only do different types of motors call for special grades of oil, but practically every individual motor presents a lubricating problem all its own, depending upon its condition, its age, the care it has had, and where and how it is used.
Three Standard Grades of Socony Polarine Oils –
Socony Polarine Regular is an oil of medium body for use in cars where piston rings and working parts are properly fitted and in good condition, and for use during the winter months where an oil with a low cold test is desired.
Socony Polarine Heavy is an oil of heavy body and exceptional lubricating qualities. For use where loose-fitting parts require a heavier grade than the Regular, and during the summer months.
Socony Polarine Extra Heavy is a special grade manufactured for use in motorcycles, air-cooled motors, slide sleeve motors, slow speed motors, motors with large bore, and those excessively worn by long service.
Socony Polarine Lubricants and Greases
The following additional products are included in the complete line of Socony Polarine Lubricants : Socony Polarine Gear Oil for trans missions and differentials whose construction permits the use of oil; Socony Polarine Gear Compound, a semi-solid differential and trans mission lubricant; Socony Polarine "BB" Transmission Lubricant, an ideal, semi-solid gear lubricant used where the construction does not allow the use of a heavy oil ; Socony Polarine Cup Grease; Socony Polarine Fiber Grease; Socony Polarine Graphite Grease. Standardize on Socony Polarine Oils and Lubricants. Your dealer will be glad to advise you on your particular needs. STANDARD OIL CO. OF NEW YORK 26 Broadway.
Polarine Collectables –



Polarine Motor Oil collectors reproduction sign –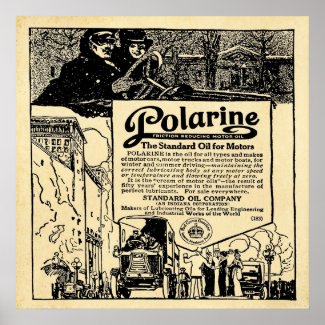 Vintage Polarine Motor Oil Print
by
OldVintagePosters
Browse more
Vintage Posters